Reverb Record is a free online voice recorder letting you record and share your voice immediately to anyone, anywhere.
Simply record your voice and share with a link. Voice is stored until you delete it and there's no required sign up. Everything is web-based and online. Downloading is not necessary.
Record your voice with the click of a button. You don't have to do any captcha, sign-up, or verification.
Record any audio instantly and when you're done, get a share link to share with friends, colleagues, or strangers all over the world!
Share immediately to anyone
Share your voice link anytime, anywhere. Share to:
Email
Twitter
LinkedIn
Slack
Facebook
Discord
Trello
Web portals
Forums and message boards
Messengers like Whatsapp, iMessage, and Telegram
Even Tinder!
Recordings are lightweight and load lightning quick. They play immediately for the recipient.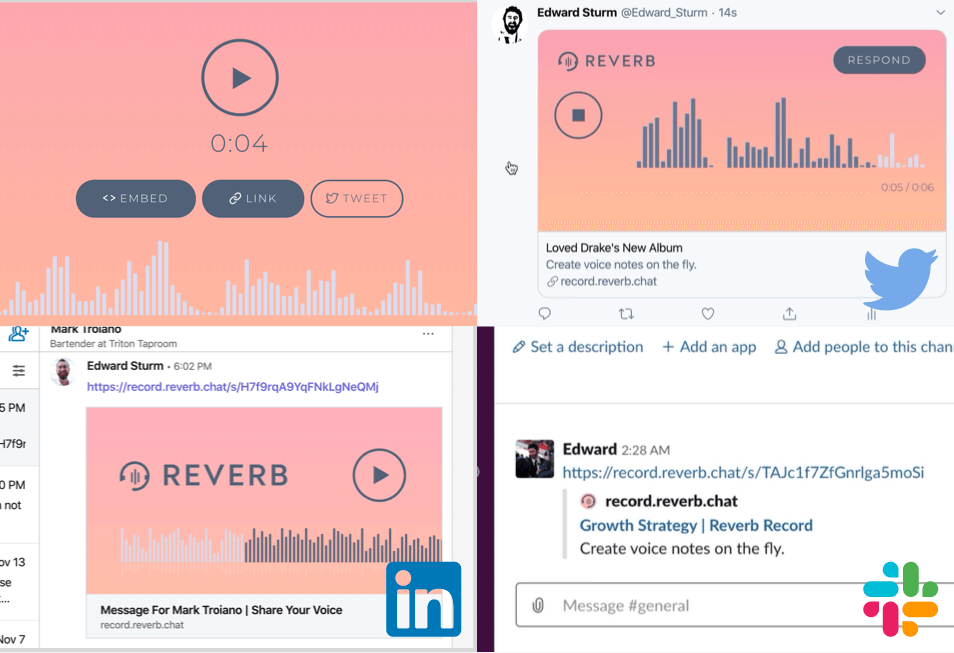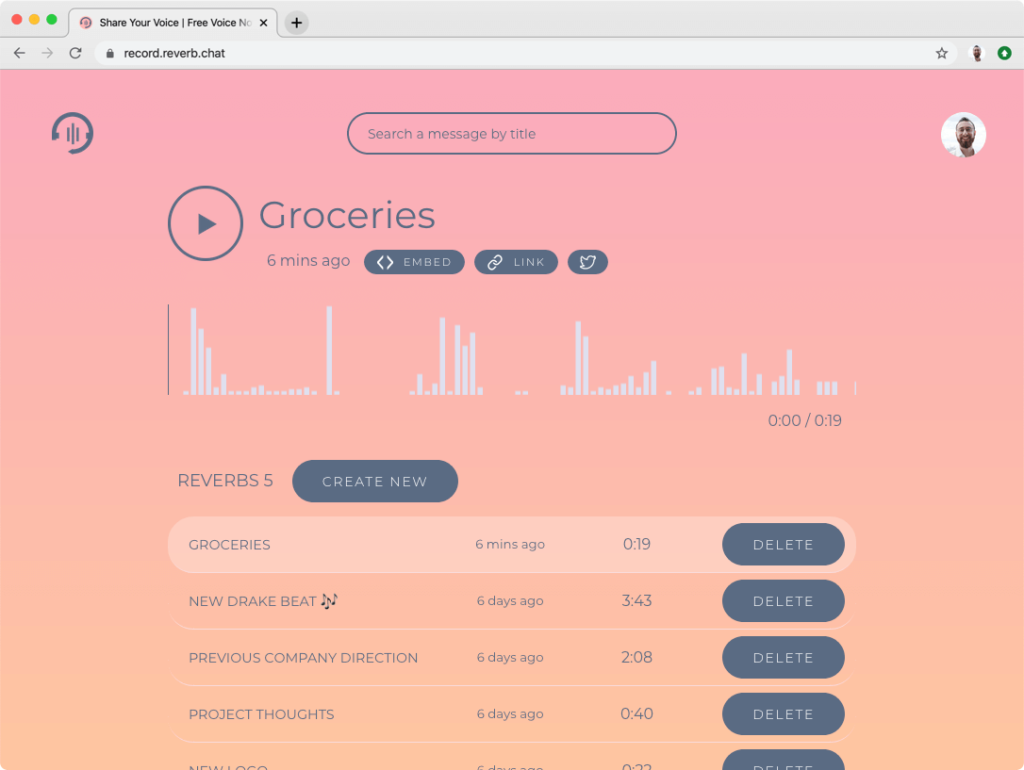 You can choose to create an optional account to save and manage recordings.
This lets you delete recordings whenever you want (once you delete them they are truly gone forever), retitle recordings, and go back to recordings which you may have lost the links to. New free features are also being built in every day.
Reverb recordings embed anywhere. Just click the "Embed" button and your recording will show in a player on your blog, website, and more.
You can even tweet out the direct recording link and have your voice automatically embed right into Twitter. Voice Tweets are easy and instant with Reverb Record.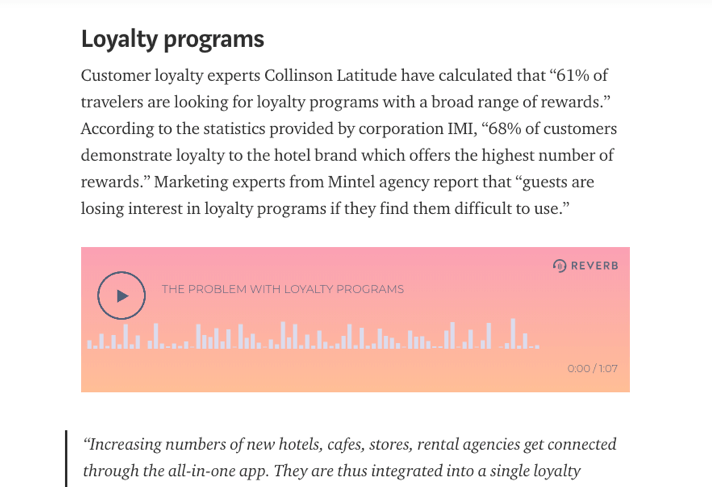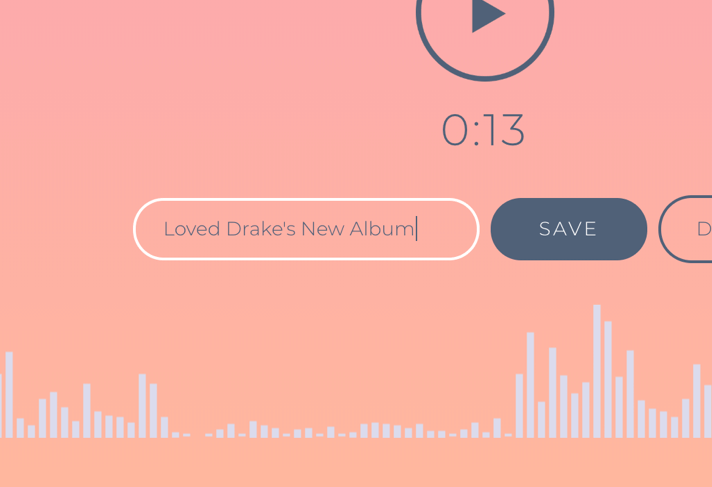 Give a title so people click
Once you're done speaking, you can title your recording so it shows up with something people want to click! This title will show up in the embed, the recording page, or in previews in messengers.
You can also give your recording no title and keep it mysterious.
Share your identity or don't with anonymous voice recordings.
Reverb Record is totally anonymous if you want it to be. Since there's no verification, you can be who you want and say what you want. Even with an account, your recordings remain private and anonymous. Nobody will know who you are if you don't want them to.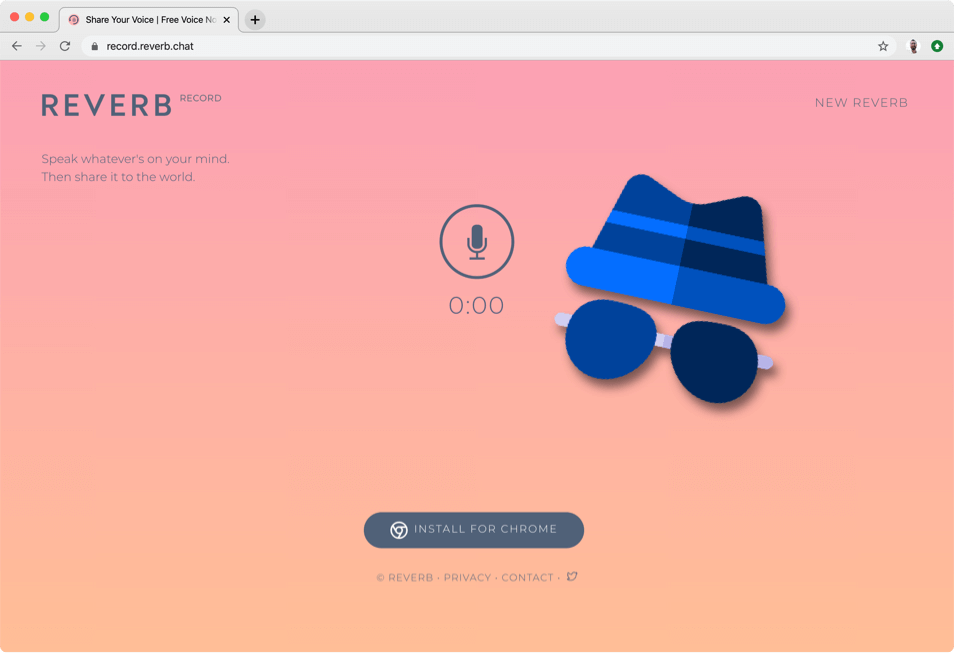 Web based, totally online, and free
Some other online voice recorders will charge for usage, but Reverb Record is all free.
Recordings live in the cloud so everything is online. This makes it easy to record your voice into emails, LinkedIn, or forums for example.
Since this voice recorder is free and online, you can use it now. Click below to start recording.